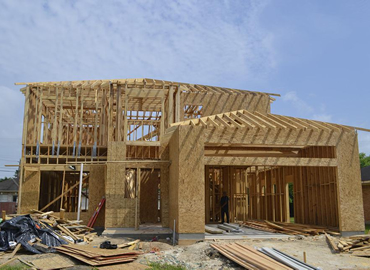 Texas has a reputation for beautiful women and, unfortunately, terrible soil. In the Dallas – Fort Worth Metroplex, most of our homes are constructed on highly elastic clay soil. The constant shrinking and swelling of clay soils due to seasonal moisture fluctuations can wreak havoc on your home foundation. Luckily, most homes show evidence of foundation settling long before major structural damage occurs. Keep reading for the top 5 signs that your home may have foundation problems.
Top 5 Signs of Foundation Problems
1. Jammed Doors and Windows – Signs That You May Need Foundation Repair
Whether you're maintaining a home that you currently own or are in the process of getting a home inspection, pay special attention to windows and doors. Issues with window frames and doorways are easy to spot and can indicate that a home has foundation problems.
Call a structural engineer for an unbiased foundation evaluation if you notice:
Windows and doors that are jammed shut or difficult to open and close
Doors (cabinet doors too) that swing open when unlatched
Visible gaps at the bottom or top of windows or door frames
Doors that scrape the floor upon opening
Cracks in the wall near door and window frames
2. Sagging Walls – Signs of Foundation Settling
It's uncommon to have a basement in Texas, but we've seen several in homes throughout Dallas – Fort Worth. When a home is designed with a basement, the immense weight of the structure, and everything inside of it, rests on the supporting basement walls.  As such, sagging, bowing, or leaning basement walls indicate an issue with your home's foundation. Sagging walls and dips in the subfloor can also indicate foundation settling in homes constructed with pier and beam foundations. By taking immediate and proactive measures you can likely reduce the risk of major foundation repair in the future.
3. Cracked or Leaning Chimney – Top Signs You May Need Foundation Repair
Chimneys made with a rock or brick exterior tend to show early indications of foundation movement. The twisting and pulling of settling causes the mortar to fail. A leaning chimney, or a chimney with visible gaps or cracks, can be a red flag for foundation issues.
4. Cracks or Gaps in the Soil Near Your Foundation
The important thing to understand is that the quality of your soil has a direct impact on the foundation.
Ideally, the soil surrounding your home is dry, well-compacted and there are no signs of standing water. Visible slope movement such as erosion, minor landslides, or cracks in the ground signal poor soil quality. There are a number of solutions to remedy this. Call your local drainage company if you notice water pooling around your home, especially if you notice moisture without an apparent cause. Consider installing a foundation watering system to ensure optimal moisture balance along the perimeter of your home.
5. Uneven Flooring – Signs of Foundation Settling
If your home's foundation is in jeopardy you may notice floor tiles cracking, lifting, warping, sagging and bulging. Homes with carpeting can make these indicators less noticeable. Pay attention to changes in your flooring to help identify concerns BEFORE they get out of hand.
If you are concerned about your home's foundation, consult a foundation expert (A LICENSED ENGINEER) right away. When choosing the best professional to inspect your home foundation, do your homework. Beware of free estimates from companies who may be trying to sell you their service.
Thomas Engineering Consultants is NOT in the business of construction or foundation repair. Instead, we apply our 20+ years of structural engineering education and experience to provide you with an accurate, unbiased assessment of your home's foundation. Our findings are presented to the homeowner in a certified, verifiable engineer's report.