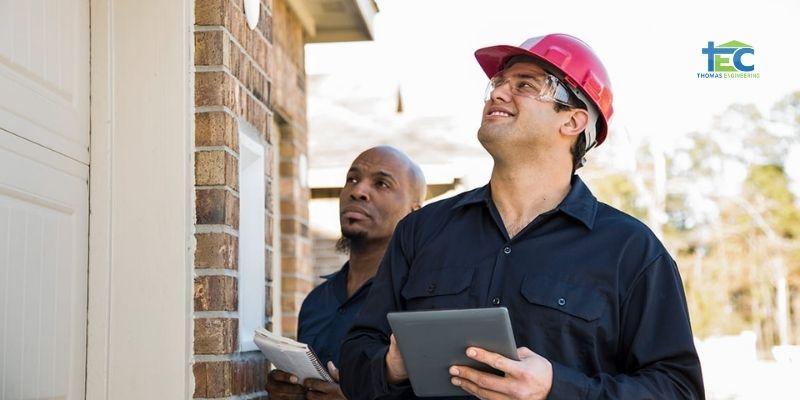 A strong foundation is essential for your home's structural integrity, ensuring its longevity and safety. However, identifying and addressing foundation problems can be challenging. That is why hiring a licensed structural engineer to perform a home foundation inspection is important.
What Is a Foundation Inspection?
A foundation inspection is a comprehensive assessment of the underlying support structure of your home. It is a process that aims to detect and identify any signs of damage, such as mold, cracks, and wood rot.
A foundation inspector will carefully examine your home's interior and exterior, including the basement and crawlspace. They will also review the surrounding landscape to assess any potential drainage problems.
Once the inspection is complete, the inspector will compile a detailed report outlining their findings and recommendations for necessary repairs. This report is a valuable resource for homeowners, as it provides insights into the overall condition of their home's foundation and helps to identify any potential problems early on.
Expert Tips for Conducting a Thorough Foundation Inspection
To help you safeguard your investment, a thorough home foundation inspection is essential. This inspection will ensure the stability and integrity of the building. Here are some expert tips for conducting a rigorous foundation inspection:
1. Check for visual signs of damage.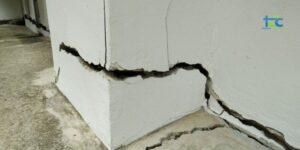 Inspecting your foundation for cracks in the walls is essential, both inside and out. Pay attention to any signs of structural weakness, such as bulges, leaning walls, or other noticeable irregularities on the exterior. These visual signs can indicate underlying foundation problems that need immediate attention.
Early detection of these issues is critical to preventing potential structural damage and ensuring the stability and longevity of your building. Regular inspections are proactive, allowing you to identify and resolve problems before they become more severe and expensive to repair.
2. Inspect the interior
When inspecting your property for structural damage, pay close attention to the drywall around windows and doors. Cracks in these areas can indicate underlying problems with the foundation or support structure.
Additionally, check the floors for any unevenness or sagging. This can also be a sign of foundation problems. If you notice any of these signs, having your property inspected by a qualified professional as soon as possible is vital. Early structural damage detection and repair can save you time and money in the long run.
3. Assess water damage
Managing water flow away from your foundation is essential to avoid potential problems. Poor drainage can cause soil erosion and weaken your foundation. After rainfall, check your property for signs of standing water around the foundation.
If you find any, take care of the drainage problem immediately to reduce the risk of long-term damage. This proactive measure will protect your foundation from the harmful effects of water accumulation, preserve the structural integrity of your property, and prevent expensive repairs in the future.
4. Examine the soil
It is essential to understand how different soil types affect foundations. Clay soils can expand and shrink with changes in moisture, damaging foundations. It is essential to watch for signs of soil erosion near the foundation, as this can indicate that the soil is shifting and could damage the foundation.
If you see signs of soil erosion, you should take steps to correct the problem and protect your foundation.
5. Inspect the foundation footing
To ensure the longevity and stability of your building:
Prioritize the integrity of its foundation.
Carefully inspect the footing for any visible signs of damage.
In colder climates, ensure that the foundation extends below the frost line to prevent problems caused by freezing and thawing.
A strong foundation protects your structure from immediate and long-term concerns, providing a reliable foundation for your property. Regular assessments of these key factors contribute to the longevity and resilience of your building, ensuring its structural integrity over time.
6. Evaluate cracks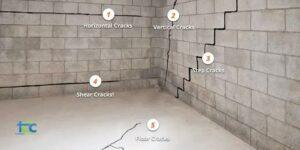 Identifying and monitoring building cracks is essential for understanding and addressing structural problems. Vertical cracks are typically less concerning than horizontal or stair-step cracks. To assess their severity, carefully measure and track crack widths over time. Sudden and significant changes in crack width may indicate underlying issues that require prompt attention.
Homeowners and professionals can proactively identify by understanding the different types of crack patterns and diligently tracking changes. As a result, these will allow all parties to address potential structural concerns before they become serious, creating a safer and more resilient living environment.
7. Look for foundation movement
Foundation inspectors must be vigilant for signs of differential settlement. This is uneven settling across the foundation, which can cause structural problems. Use a level to carefully check the floors for any slope or unevenness, as these can indicate underlying foundation problems.
Uneven floors may indicate subsidence or soil-related issues and require prompt attention. A thorough inspection with precise tools is essential for detecting subtle variations that could escalate into more serious problems if addressed. This will help to ensure the longevity and stability of the entire structure.
8. Inspect the foundation materials
Different foundation materials, such as concrete, block, and stone, have unique challenges. It is important to understand these material-specific nuances so that you can take proactive measures to maintain and inspect your foundation, ensuring optimal longevity and stability.
Concrete foundations can crack, block foundations can shift or settle, and stone foundations can erode or be susceptible to moisture-related damage.
By addressing the specific challenges common to the foundation material in your structure, you can detect problems early and implement targeted solutions.
Conclusion
Ensuring the structural integrity of a building is essential, as foundation problems can worsen with time. Regular inspections are a proactive way to identify and address concerns promptly. Seeking expert advice guarantees a comprehensive evaluation and timely interventions, preventing further deterioration and safeguarding the structure's stability.