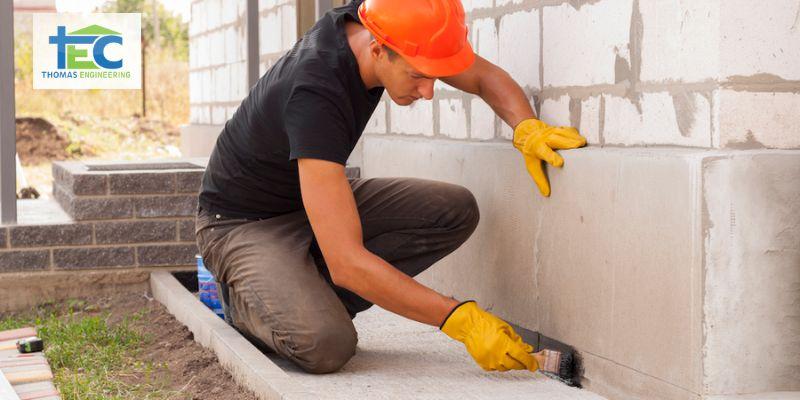 Pier and Beam vs Slab Foundations in Dallas, Fort Worth – Exploring Your Options
When you're in the market for a home in the Dallas, Fort Worth region, you're faced with a multitude of decisions. The choices range from where to purchase when to make the purchase, and even whether to opt for a pier and beam or concrete slab foundation. The entire process can be overwhelming, to say the least!
While we can't assist you in selecting the ideal school district or the perfect floor plan, we can provide you with a brief overview of the different types of foundations to help you determine which one suits your needs best. Understanding your foundation type is crucial because if your home ever encounters foundation settling, the method of repair will depend on the type of foundation you have.
To start, let's ensure you're familiar with the terminology associated with the two most common foundation types found in the Dallas, Fort Worth area: pier and beam and slab foundations.
Dallas, Fort Worth's Pier and Beam Foundations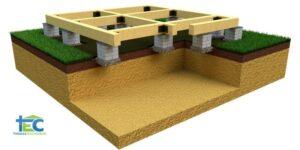 Frequently encountered in older residences, the pier and beam foundation consists of multiple footings with concrete bases that provide structural support to the house. An effective method for identifying a pier and beam foundation is to check for the presence of a crawl space beneath your home. Unlike concrete slab foundations, which lack crawl spaces, pier, and beam foundations feature a convenient opening for convenient access to electrical and plumbing lines.
Dallas, Fort Worth's Concrete Slab Foundation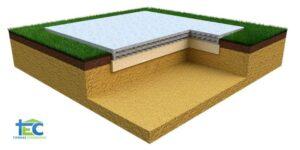 Referred to as a "slab-on-grade" foundation, the concrete slab foundation is predominantly found in newer homes throughout the Dallas Fort Worth metropolitan area, particularly those constructed post-1970. Typically, these concrete slab foundations are fortified with steel beams, commonly known as tension rods.
Advantages and Disadvantages in Dallas Fort Worth
Pier and Beam Foundation in Dallas, Fort Worth Advantage:
Having a crawl space in homes with pier and beam foundations simplifies the process of addressing electrical and plumbing problems. The challenge lies in persuading someone to venture beneath it!
Advantages: The access provided by the crawl space in a pier and beam foundation also offers an opportunity for additional insulation installation.
Advantages: Given that the pier and beam foundation comprises individual piers and beams, it becomes simpler to isolate specific foundation issues. This, in turn, enables homeowners to avoid expensive repairs to the entire foundation.
Disadvantages: Crawlspaces are often sought out by rodents as a shelter, and they may construct nests beneath your house. Alongside these unwanted rodents come fleas and other insects, which can be quite unsettling.
Disadvantages: Moisture can readily infiltrate the crawl space, resulting in squeaky floors, mold growth, and decay. This increased moisture content can give rise to an unpleasant odor as well.
Disadvantages: Pier and beam foundations frequently incur higher costs due to the extended time and specialized expertise required during the construction process. Nonetheless, if you're contemplating the purchase of an older home featuring a pier and beam foundation, you need not concern yourself with construction expenses, as these homes were built many years ago. It's typical in the Dallas Fort Worth region for homes constructed before the 1960s to have pier and beam foundations.
Disadvantages: Water utilities left unprotected in crawl spaces are at a greater risk of freezing during severe winter conditions.
Dallas Fort Worth's Concrete Slab Foundation
Advantages: Slab foundations are typically more cost-effective to build and can be erected rapidly.
Advantages: In cold weather, water utilities embedded within the slab are less susceptible to freezing.
Advantages: Sealing the home to deter rodents and insects from infiltrating is a simpler task.
Disadvantages: Slab leaks can result in substantial damage to your home's foundation, and generally, repairs are more challenging to address without a convenient crawl space.
Disadvantages: Concrete slabs have the potential to shrink, crack, and even sink over time.
Which foundation type is susceptible to settling?
When weighing the differences between pier and beam foundations and concrete slab foundations, it's concrete slabs that exhibit a higher propensity for settling in North Texas. It may come as a surprise, but this is primarily due to the continuous contact concrete slabs maintain with the soil. Texas experiences significant moisture fluctuations, and these fluctuations directly affect concrete slab foundations. Consequently, homeowners are strongly advised to adopt foundation watering practices to maintain an equilibrium in moisture levels around their home's perimeter.
Is buying a pier and beam home versus a slab home an unwise investment?
Not at all. Pier and beam homes offer numerous advantages! The most effective approach to guarantee that any real estate acquisition is a sound investment is to engage a specialized professional to conduct an impartial evaluation.
For details about TEC's Licensed Home Inspectors, please click here.
Concerned about your home's foundation? A Licensed Professional Engineer should be your first call. Click here for more information.
If you want to proactively protect your home, contact Thomas Engineering Consultants at 817-576-1973 to schedule an appointment for a structural evaluation, which includes a detailed engineering report with actionable items to protect your home's foundation.