Discovering various foundation repair methods is crucial for homeowners, as they may encounter different issues affecting their home's foundation. Fortunately, there are several ways to address these problems. However, it is not uncommon for foundation specialists to propose multiple solutions for a specific issue. As the homeowner, it becomes your duty to familiarize yourself with different foundation repair methods to understand their respective benefits and drawbacks.
Foundation Repair Methods in the Dallas Fort Worth Area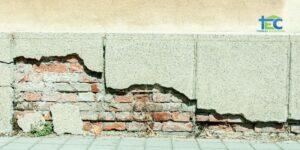 Deep Repairs: When it comes to foundation repair methods, deep repairs receive significant attention due to their ability to address concentrated loads and stabilize unstable soil. These methods involve transferring the weight of the home to a different layer of ground. In the Dallas area, four commonly used deep foundation repair methods are:
Bell Bottom Pier Method : This standard technique utilizes poured concrete reinforced with steel rebar to support the home. Although considered safe and beneficial, it requires a two-week waiting period for the concrete to properly dry.
Pressed Piling Method:In this popular approach, precast concrete cylinders are installed and the weight of the house helps drive them into the ground. Unlike the Bell Bottom Pier Method, there is no need to wait for the concrete to cure, resulting in a comparatively shorter repair time.
Nevertheless, the drawbacks associated with these deep repair methods are extended to the point that they warrant a dedicated article discussing them. Given the numerous disadvantages, attempts have been made to modify the methods, such as the inclusion of rebar in the concrete cylinders. However, according to several experts, these modifications are deemed inadequate and may potentially introduce new issues.
Steel Piling Method: Instead of concrete cylinders, this method employs steel pilings. Since there is no reliance on concrete curing time, the repair process is expedited. However, experts caution that rearranging heavy items within the home may cause the foundation to shift, and the weight of the house alone might not be sufficient to drive the steel cylinders into a stable layer of ground.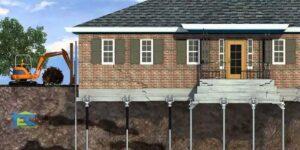 Shallow Repairs: If foundation problems are less severe, shallow repairs may be sufficient without the need for extensive excavation. These methods are suitable for lifting non-concentrated loads, such as slab floors, and are generally more cost-effective compared to deep repairs. Two commonly used shallow repair methods are:
Slab Jacking: This technique involves injecting grout beneath the concrete slabs to fill in gaps and raise the concrete. The expanding grout pushes the foundation back into its proper position.
Foam Jacking: Instead of concrete, foam (high-density polyurethane) is used to lift and support the concrete slabs. It offers a lighter alternative to traditional slab jacking.
Soil Stabilization:
Another approach to foundation repair is to enhance the soil's capacity to bear the weight of the house. Chemical grouting is a method that involves injecting chemical grout into the soil below the foundation to improve its stability.
To determine the most suitable foundation repair method for your home, it is recommended to seek an objective foundation inspection conducted by a qualified structural engineer. This will provide you with comprehensive information and guidance for making informed decisions.
If you want to proactively protect your home, then retain the services of a structural engineer. Contact Thomas Engineering Consultants at 817-576-1973 to schedule an appointment for a structural evaluation of your home, which includes a detailed engineering report with actionable items to protect your home's foundation.